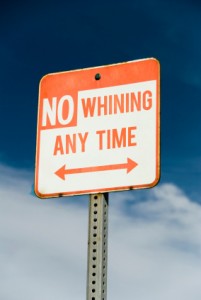 Found an awesome motivational post on a new blog today (new to me, like almost everything).
http://outspokenmedia.com/online-marketing/you-just-suck/
An excerpt:
Entrepreneurs are ruling this recession.

Why? Because they're hungry and they're motivated. That means they can't spend their whole day getting caught in the fame game or in office politics. It means when they go to a conference or a networking event, they're not there for the booze. They're grabbing handfuls of business cards, talking to people, and then following up. And they don't just say they'll email you after the show. They really do. Actually, they email you as soon as they get home. They're nurturing leads and finding clients and creating opportunities. They're marketing themselves. They're not tuning in to Oprah this afternoon to get Twitter tips from Ashton Kutcher.

In fact, there's not even time to whine about how unfair the world is and how this recession is taking away their business. Because they're out there finding business from places you wouldn't have even thought to look. Or maybe you would have, if you worked as hard as they do. That's the thing, people don't want to work. They want a job and a paycheck. And those cushy jobs with those cushy paychecks are the first to go. Because really all those people are doing is taking up space. So it's not so much that the recession came around and took your job, it's that you allowed yourself to become expendable.